Granmatrix by Metalac
Material for new forms
Granmatrix is a Solid Surface composite material. The main component of the Granmatrix is a polyester acryl-modified resin mixed with the mineral aluminium trihydroxide, which gives shape and hardness to the resin. As a result we get the material that is hard as a stone and at the same time easy to work with. Granmatrix material can be cast in any desired shape and has many possible applications in both interior and exterior design. Metalac Inko Ltd makes panels in various sizes and thicknesses and other shapes like sinks, washbasins, bath tubs... A final product is custom made upon requirements and specifications of end users, in cooperation with authorized partners – furniture manufacturers. Granmatrix is a material with thermoforming properties – it can be heated and bent into different three-dimensional shapes, which further contributes to great possibilities in interior design – tables, lamps, shelves, bathroom furniture.
Application of Granmatrix

Modern, repearable, ...
Material for new forms
Granmatrix
Granmatrix can be heated and bent into different three-dimensional forms, which contributes to the the number of different application possibilities. Seamless texture and monoblock structure offer great freedom for designers, architects and interior designers.
---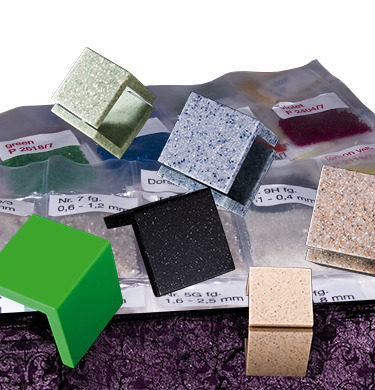 Kitchen
Monoblock kitchen tops and sinks, kitchen islands, dining tables...
Bathroom
Integral washbasins, monoblock shower booths or bath tubs, cover panels instead of ceramic tiles...
Interior and exterior application
Worktops in restaurants, counters, bars, window sills...
Labs
Worktops and sinks that can be used with aggressive chemicals...
0
Maximum length of table (mm)
0
Maximum widht of table (mm)
Highlights

Properties
Granmatrix offers designers, architects and interior designers great opportunities and freedom in creation. Almost everything imaginable is possible to perform – in terms of irregular shapes, different color combinations, combinations with other materials etc.

FREEDOM TO EXPRESS CREATIVITY

Granmatrix is resistant to weathering and UV rays, so it can be used for window sills in both indoor and outdoor use. Granmatrix is resistant to aggressive chemicals, which enables its use in laboratories.

RESISTANT

White or any colour you want – design possibilities are almost limitless.

WIDE COLOR PALETTE
PROJECTS, NEWS, EVENTS...

Follow us
GET IN TOUCH

Contact us, Every dan from 8-16h
Tel : +381 32 770 341
Fax: +381 32 725 211
Working hours: Mon-Fri 08-16h
Kneza Aleksandra 212
32300 Gornji Milanovac
Serbia
OUR PARTNERS - FABRICATORS

Contact us or our partners to get information about Granmatrix